When is the best time to travel to Australia?
As the sixth-largest country in the world, Australia's climate varies wildly throughout the year across its eight states and territories. While the north sees steamy tropical weather, the temperate south experiences chilly winters and the rocky centre has a desert climate. So, when's the best time to visit Australia? Whether you're looking for some beach time, a city break or outback adventure, here's a guide to Australia's climate and when to visit.
What's in this guide?
Most of Australia experiences four seasons that are opposite to those in the Northern Hemisphere. The weather varies depending on region but generally, the north has a tropical climate, the centre is arid and desert-like, while the south is temperate. As a rough rule, avoid the cold southern winters and north's hot and stormy summers. Here's a breakdown of Australia's seasons:
• Summer: December, January, February
The north of Australia will be wet and stormy, the centre blisteringly hot and southern parts sunny with cool coastal sea breezes, perfect for beach breaks
• Autumn: March, April, May
The south has cooler days with more rain, changing leaves and city festivals. It remains hot and rainy in the north, while late Autumn is a popular time to visit the desert region
• Winter: June, July, August
Much of the country boasts bright, cool days, the south can even see snow around Victoria and Tasmania. The north is drier and it's the coolest time to visit the Red Centre
• Spring: September, October, November
Expect lower rainfall and mild temperatures across most of Australia, with sunshine and cool nights. It's dry season in the tropical north until November, so visit early. Spring is a great time for city breaks
The tropical north of Australia, which covers parts of Queensland, Western Australia and the Northern Territory, has a wet and dry season that falls accordingly:
• Dry season: May – October
• Wet season: November – April
It's best to visit during dry season to avoid daily monsoonal rain, high humidity and occasional cyclones. Many tour companies close up in the wet season and there's a flood risk in some places, especially in national parks like Kakadu. The heaviest rain falls from January to March.
Australia has over 25,000 kilometres of coastline and 10,000 beaches, with marine-rich waters and the world's largest coral reef. However, in the northern tropics, you need to watch out for jellyfish, also known as stingers. These include the notorious Box Jellyfish, whose sting can be lethal. The stinger season falls roughly from November to May and during this time, you should swim within stinger net enclosures and wear a full-body stinger suit for protection.
In the tropics, you should also be aware of crocodiles that live in coastal estuaries and rivers, often transiting through the sea. Always adhere to safety signs and only swim in designated areas. Observe general water safety rules in Australia by swimming on beaches between red and yellow flags, which are patrolled by lifeguards.
Australia is home to an incredible array of wildlife, including various species of whales that migrate up both coastlines. Broadly speaking, Australia's whale watching season falls between May and November. During this time, thousands of whales migrate up the eastern Humpback Highway from Antarctica to warmer waters in the north. You can take whale watching tours from many east coast hubs, popular options include Hervey Bay, Jervis Bay, Byron Bay and Fraser Island, where humpbacks raise their calves in sheltered bays. Humpbacks also travel on the west coast to Kimberley at this time and can also be seen on the east coast of Tasmania.
You can spot southern right whales in South Australia between June and September when they breed, especially around the Fleurieu Peninsula and Victor's Harbour. In Victoria, they also calve close to the shore along Great Ocean Road destinations like Warnambool. In Western Australia, the south coast is best for whale watching, with humpbacks and southern rights from June to November and blue whales appear with their calves around September. Between January and April, go to Bremer Bay in Western Australia to see orcas feeding.
Swim or dive with whale sharks at Ningaloo Reef in Western Australia from March to July, when they gather on the Coral Coast during migration. Turtle nesting occurs from November on the east coast, with hatchlings in Queensland from January to March. Key places to see green and loggerhead turtles include Lady Elliot and Heron islands, when turtles begin to hatch in the cool January evenings and early mornings.
Like much of the world, in recent years Australia's climate has become more extreme. This means bushfires can be more common and intense, so you should always check the Fire Danger Ratings (FDR) for your destination, these are regularly featured in the news. In southern Australia, the bushfire danger period is late spring and summer while in the north, it's from winter to early spring. If you're camping in parks or in the outback, follow fire regulations, use designated fire pits and extinguish camp fires fully with plenty of water.
You need to be mindful of Australia's summer and Easter school holiday dates, particularly given the higher demands for accommodation during these times. Here are some other public holiday and event details.
• Australia Day – January 26
• Anzac Day – April 25
• Australian Open – during the last two weeks of January
• Adelaide Fringe Festival – for 21 days in February and March
• Sydney Mardi Gras – first Saturday of March
• Australian Grand Prix - March
• Melbourne Comedy Festival – March and April
• Australian Fashion Week – May
• Henley-on-Todd Regatta – on the third Saturday of August
• Melbourne Cup – on the first Tuesday of November
• Sydney to Hobart Yacht Race – end of December
• New Year's Eve fireworks – December 31st
Top destinations: Brisbane, Cairns, the Whitsundays, Great Barrier Reef and Port Douglas
Queensland is known as the Sunshine State and visitors take beach breaks there all year-round, just beware of stinger season between November and May. The tropical north, including Cairns and the Great Barrier Reef, gets very hot and humid in the summer months when temperatures top 33 degrees. It's also wet season from November to April, which means regular heavy rainfall and occasional storms and coastal cyclones.
The winter in Queensland is dry season and sees temperatures averaging 25 degrees, with plenty of blue skies and sunshine. This is the perfect time to visit Queensland, as is the first two months of spring before the wet season kicks in. Further south, the Brisbane area has a more temperate climate. You can visit the Great Barrier Reef all year-round, but the best visibility for diving and snorkelling is in winter and spring.
Top destinations: Sydney, Blue Mountains, Byron Bay, Hunter Valley and Mount Kosciuszko
New South Wales has a subtropical climate with distinct seasons featuring cool winters and hot summers. The south of the state is more temperate, while the north is warmer towards Brisbane. The Great Dividing Range is a climate factor in New South Wales, creating cooler highlands and a warmer coast. There's even snowfall in the Snowy Mountains, home to Mount Kosciuszko, the country's highest peak.
Summer is a popular time to visit New South Wales with dry weather and an average 27 degrees. This makes ideal beach weather with coastal breezes. Visitors also flock to Sydney for the New Year's Eve fireworks display and Sydney Festival in January. The shoulder months of November, March and April are also a good option for visiting New South Wales. Temperatures slip down to the low 20s but it's quieter, with sunny days and cool nights.

Top destinations: Canberra
This small state lies slightly inland from Sydney and boasts an agreeable year-round climate, with the driest weather in summer and autumn. Its main draw is the purpose-built capital, Canberra, which is beautiful in the summer and shoulder months. The city hosts stirring events for Anzac Day, as well as the country's largest, month-long flower show every September and October: Floriade.
Top destinations: Melbourne, Phillip Island, Great Ocean Road, Grampians National Park
Victoria has a temperate climate and you'll experience all four seasons in this southern state, from warm summers to cold winters and a mild spring and autumn. The capital, Melbourne, has famously changeable weather that can swing through all four seasons in one day. Winter is the wettest time and can see temperatures drop as low as 12 degrees. In the Victorian Alps, it's possible to visit the ski slopes in winter.
The best time to visit Melbourne is in summer, with the hottest weather in January and February, averaging 25 degrees. There's also less chance of rainfall, which is why the Australian Open is held in January. November and March make good shoulder months and destinations are quieter. Other sports events like the Melbourne Cup happen in November and Australian Formula One Grand Prix at the end of March.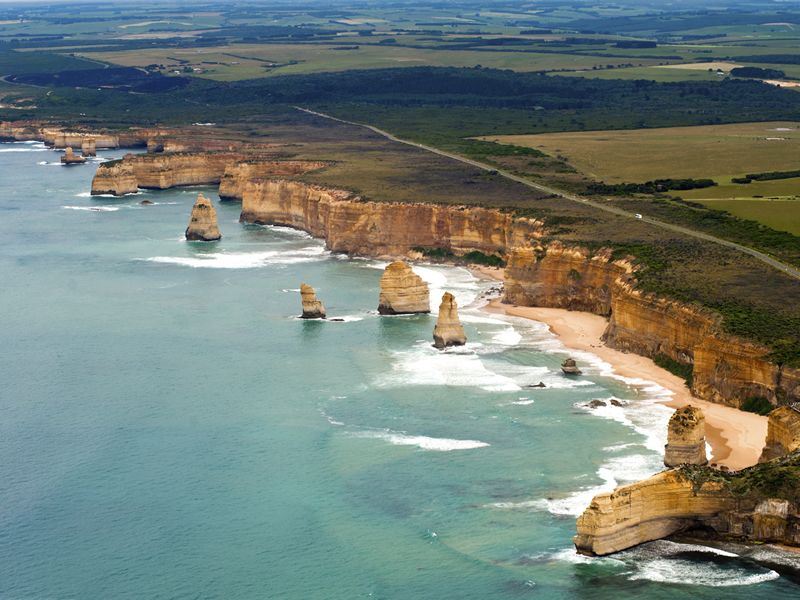 Top destinations: Hobart, Tasman National Park, Launceston and Franklin-Gordon Wild Rivers National Park
Tasmania is an island that lies off the southern coast of Australia, with its own climate. Generally, Tasmania's weather is mild and temperate with warm, drier summers reaching around 21 degrees with cooling Pacific Ocean winds. The winters see temperatures tumble to around 13 degrees and some of the highest rainfall in Australia. October to March is a great time to visit, with blooming vegetation in the spring.
Top destinations: Adelaide, Kangaroo Island, the Nullarbor Plain and Flinders Ranges
South Australia has two climate zones, temperate coastal and an arid, desert climate around the Nullarbor Plain. This outback area covers much of the state and was once home to opal mining operations, boasting a hotter, drier year-round climate. Adelaide and the coast have a colder climate, with mild, wet winters and hot summers. Visit South Australia in the summer for temperatures averaging 27 degrees, while autumn and winter cool to 15 degrees.
Top destinations: Perth, Margaret River, Albany, Broome, Ningaloo Reef near Exmouth, The Kimberley, The Pinnacles in Nambung National Park
This huge state features all of Australia's climate zones, from the tropical north Kimberley region to a central desert region and a more temperate climate in the south towards Perth.
In the far north, summers are very hot, wet, humid and best avoided, with temperatures reaching over 40 degrees. Visit this area in the cooler, dry winter or early spring, when wildflowers are in full bloom.
It's subtropical further down the coast, from Exmouth to Perth, which is lovely in the summer, averaging 27 degrees. November and March are also pleasant in Perth, while winter temperatures drop to maximums of around 17 degrees.
Perth enjoys a cooling summer sea breeze known as the Fremantle Doctor. If you'd like to see whale sharks, they visit the Ningaloo Reef area between March and July.
Top destinations: Darwin, Kakadu National Park, Uluru, Alice Springs and Kings Canyon
Late autumn, winter and early spring are ideal times to visit the Northern Territory. The northern parts of the state, such as Darwin and Kakadu, average 30 degrees year-round and experience rains and cyclones in summer. It's driest in the winter and early spring with lower humidity. The waterfalls in May are spectacular and vegetation is lush in the north, especially in Kakadu National Park.
The southern part of the Northern Territory covers the centre of Australia, including iconic sights like Uluru and Alice Springs. This Red Centre has a desert climate with temperatures over 36 degrees in summer and cold nights with very little rain. Late autumn and winter are the best times to visit, when temperatures stay around 21 degrees.
Many visitors opt for a classic Sydney, Uluru and Great Barrier Reef itinerary to see three incredible areas of the country. See some other Australia itineraries, based on the country's weather patterns.
Australian summer itineraries
Summer is good for visiting New South Wales, Australian Capital Territory, Victoria, Tasmania and South Australia. Get some itinerary suggestions from our Highlights of the South, Discover the South East, South East Splendour and Tasmania Grand Circle self-drive tours. Here are some of the top summer destinations to include:
• Sydney
• Canberra
• Byron Bay
• The Sapphire Coast
• Melbourne
• Phillip Island
• The Great Ocean Road
• The Limestone Coast
• Fleurieu Peninsula
• Kangaroo Island
• Adelaide
• Nullarbor Plain
• Tasmania
Australia winter itineraries
Winter is perfect for trips to Queensland, the Northern Territory and parts of Western Australia. Sticking to the east coast, you can get some itinerary suggestions from our Great Tropical, Queensland Classic and Best of Queensland self-drive routes, which take in the following destinations:
• Port Douglas
• Cape Tribulation
• Palm Cove
• Cairns
• The Great Barrier Reef
• Brisbane
For the Northern Territory and west coast in winter, try our Top End Discovery, West Coast Explorer, The Outback, Red Centre Discovery and Dolphin Coast itineraries. These include destinations such as:
• Darwin
• Kakadu National Park
• Litchfield National Park
• Broome
• Ningaloo Reef
• The Coral Coast and Coral Bay
• Monkey Mia
• Nambung National Park
• Perth
• Kings Canyon
• Alice Springs
• Uluru
Australia spring and autumn itineraries
You can visit many parts of Australia in spring and autumn, when the weather is generally warm and sunny. Popular destinations like Sydney and Melbourne are quieter and less expensive in then and there's particularly good visibility on the Great Barrier Reef in spring. Be aware that the last month of spring, November, and first two months of autumn, March and April, still fall in the wet season so you'll experience higher rainfall if you venture north.
Find your perfect holiday
Talk to our friendly team
01342 310 580
Call us 9am-7pm Mon-Fri / 9am-5pm Sat-Sun